We've all heard it a million times before… get more traffic to your website and build your email list…. the 2 most important end goals to succeeding online.
I bet you've tried a bunch of different strategies but nothing has worked so far… blogging and posting on social media is great and all but who really has the time to be creating awesome content multiple times per week while dealing with clients and working in your business on the daily!
I stumbled on an awesome idea recently… a QUIZ! Yes, a little like those ones you see on your Facebook feed and are compelled to click on to find out another of your fabulous traits… so which Disney princess are you?
So, I bet you're wondering how this is going to help you, right? Well, quizzes aren't just for shady businesses on Facebook, you can actually get some really awesome results from quizzes for your own business. I've still been playing with quizzes but I can totally see how they might entice more people to click over to your website to find out more and you may even grab their email address so you can follow up with them to sell your products or services.
After playing with an awesome tool called Interact to build my quiz I wanted to give you some helpful tips on creating your quiz. I did originally consider writing a tutorial style blog post but Interact really has some super informative resources and why re-invent the wheel, right!? Plus they do a much better job of explaining how to use their quiz builder tool… trust me, you really don't want to hear my voiceover in a tutorial video!
However, you can check out my attempt at a quiz below. Make sure you let me know what you think!
---
So, without further a-do check out my quiz building insights below:
1. Brainstorm… A LOT!!
It literally took me 2 whole weeks to decide on what my quiz should be about. There are so many different aspects to consider when deciding on your quiz subject it is crazy. You need to take into consideration things like:
How the quiz subject relates back to you and your business (e.g. it really isn't appropriate for a web designer to create a quiz about which Disney Princess you are, as much as I wanted to)
How your quiz results should link back to your business offering or other resource on your website (e.g. using my quiz above as an example – I am currently working on a blog post showcasing the differences between wordpress.com and wordpress.org – once this has been published I will link these results over to this blog post so my viewers can get more information but also stay on my website)
Whether people will even want to take my quiz… I'm still in the testing phase on that one!
So there is a lot to think about when deciding on a quiz subject. But the beauty of the Interact quiz builder is that you can go in and change things around whenever you want… you can even create a brand new quiz and start from scratch if you want to. After creating my quiz I stumbled upon this blog post by Interact to give you a few more ideas on how to brainstorm ideas for your quiz.
---
2. Include an eye-catching & engaging quiz title & description
So, you've decided on your quiz subject… awesome! Now you need to phrase your quiz title in a way that compels your target audience to click on it! This will vary depending on the type of quiz you are aiming to create, whether it be a:
Of course, the main aim is to make your title & description as attractive as possible to your target audience. Also be sure to make it short and to the point without using big fancy words so everyone can understand what exactly the quiz is about and what the results will reveal about the quiz taker.
---
3. Make the quiz answers as inclusive as possible
One thing I totally hate when taking a quiz is if I don't fit into any of the possible answers. I'm not sure about you but when this happens to me I click away pretty much immediately. This is something I thought about often when crafting my quiz structure and questions. I tried to cover everyone in each question, however it is hard to cater to every single persons circumstances.
Keeping the above point in mind, you should also create your quiz answers in groups of 3, i.e 3 or 6 answers to choose from. From research conducted by Interact our brains tend to work in groups of 3. Structuring your quiz in this way will help the quiz taker move smoothly through your quiz.
---
4. Design your quiz questions to keep viewers engaged
Some tips that I found really helpful when developing the questions for my quiz include:
Imagine that you are an expert sitting across the table from the person taking your quiz. What questions would you ask them to determine the result they will receive? Write your questions like how you speak to ensure that the quiz taker feels like the quiz was scripted specifically for them.
Be sure to showcase your expertise in your questions. This helps to build trust when it comes time to collect the quiz takers email address ensuring that they will be more willing to sign up to your mailing list or be more receptive to the products or services you are offering.
Don't include too many questions. A maximum of 7 questions is the perfect length ensuring that the quiz is long enough to get an accurate result and short enough to ensure that the quiz taker stays interested and doesn't get bored.
Another awesome tip I stumbled across is to add relevant images to each question. Luckily the quiz builder by Interact allows you to add 1 image per question so the quiz taker isn't overwhelmed by a page of text they have to read.
---
5. Design your quiz lead capture form for success
Let's get real one of the top reasons we are creating these quizzes is to capture email addresses of potential customers… the other reason of course is to provide help and advice to people who may not know as much as we do in a specific subject area. So, we need to optimise the lead capture form as much as possible to ensure quiz takers feel comfortable giving their details to us. Some top tips to ensure this happens include:
Make sure you let quiz takers know that they'll get their quiz results right after entering their email address. Also be sure to personalise the message here.. e.g. for my quiz above I could enter something like "Enter your email address below to find our which website platform is best for you!" This message is relevant and clearly lets the quiz taker know what they'll get as soon as they submit the opt-in form.
Also let the quiz takers know what exactly you'll be doing with their details. Something like, "We'll also send you kick ass tips and tricks on website design and how to get the most from your website". It needs to be valuable or at least interesting to the people taking the quiz to entice them to give you their email address.
 Only ask for the details in the opt-in form that are most important. Most people hate filling in forms on the Internet so why make it harder than it needs to be! Also, they are super excited and want to see what result they will receive… chances are if a form is too long people will just get frustrated and click away. On my quiz opt-in form I keep it super simple asking for just their first name and email address.
Let quiz takers skip the opt-in form…. now this one is a little more controversial but I really think you should provide an option to skip the opt-in form so quiz takers can still get their results without giving out their personal details. Yes, I know I said before that the main reason we are doing this quiz is to capture leads but I know it really frustrates me when I spend 10 minutes completing a quiz to find out I have to give my personal details to see my result. So, avoid annoying your quiz takers by providing a way to skip the opt-in form.
---
So, they are my top tips for designing a quiz that generates traffic to your website and collects leads like a BOSS!
If you found these tips helpful please share this post and also consider checking out Interact, the ultimate tool to create kick ass quizzes!
The basis of this blog post is to showcase a super user-friendly quiz builder tool created by a company called Interact. In full disclosure I was contacted by one of the lovely representatives from Interact to give their quiz builder a try. If you check out the tool and sign up to one of the paid quiz builder plans I'll get a few $$ to contribute to my coffee fund! #coffeeaddict #forevergrateful If you do sign up for this tool I would love to check out your quiz creations. Be sure to leave a link to your quiz in the comments!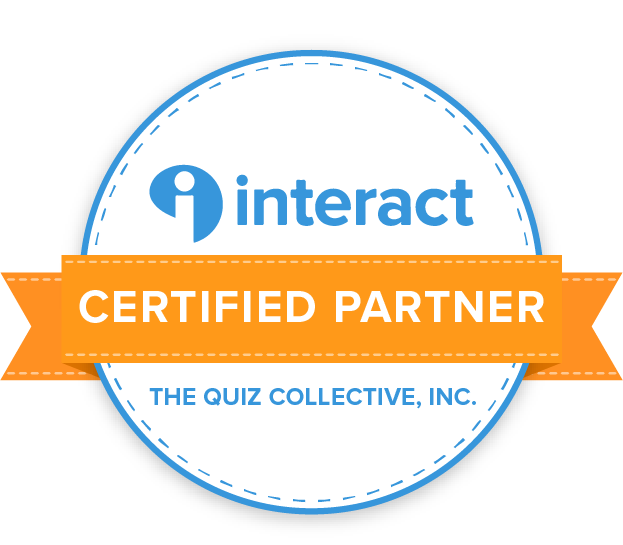 ---
LOVED THIS POST & WANT TO SHARE?
Pin this piece of genius on Pinterest by hovering over the image below and clicking PIN IT!